Bloomberg 2/28/2008: Sonoma Vintner's Team Crafts Pricey Wines, Funds Wheelchairs
February 28, 2008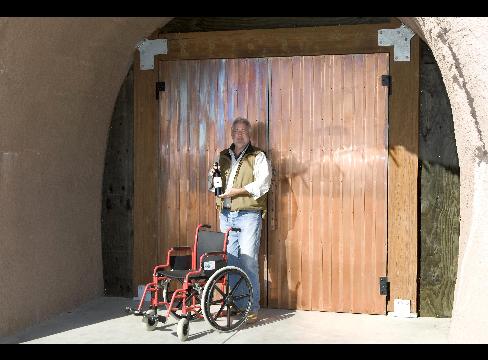 Review by Elin McCoy
Feb. 28 (Bloomberg) -- Former Wall Street publisher turned vintner Gordon L. Holmes has a unique concept in philanthropy: For each bottle of wine you purchase as futures from his Lookout Ridge Winery, he donates a wheelchair in your name to one of the world's 100 million needy people desperate for mobility.
These wines aren't plonk for charity. Holmes, 57, has enlisted California winemaking stars to make small lots of cult- quality cabernet, pinot and syrah under his label. One of them, Andy Erickson, makes hard-to-obtain Screaming Eagle, the most expensive California cab around.
Curious how Holmes started the project, I drive up a winding road of hairpin curves to his Sonoma winery high in the Mayacamas Mountains. The panoramic views, hung with clouds, are splendid.
The bearded, fifth-generation Californian, wearing jeans, cowboy boots, checked shirt and striking tortoise-shell glasses, greets me at a cubelike concrete house that serves as an office. Holmes made his name in New York by publishing investment magazines, then sold them all in 1998 to follow his dream of making wine at this property.
``That same year, unfortunately, my wife, Kari, was diagnosed with a rare form of debilitating MS,'' or multiple sclerosis, Holmes explains as he gives me a tour of his newly built wine cave. ``I learned firsthand how important a wheelchair can be.''
Top Winemaker
By 2000, Holmes was planting vineyards and hired top winemaker Greg La Follette to help him make wine from purchased grapes. Four years later he met California real-estate developer and philanthropist Ken Behring, who started the Wheelchair Foundation. That chance encounter and his wife's situation inspired his Wine for Wheels effort.
``The first time we distributed wheelchairs, in Mexico, I saw how one could instantly change someone's life,'' he says. ``I picked up a little boy whose dad was wheeling him in a wheelbarrow and sat him in a wheelchair. The look on his face now that he could get around by himself -- wow.''
Holmes, a self-confessed Type A personality, manages his own investment portfolio and also publishes three online newsletters on precious metals and energy.
``My uranium stocks have gone up 1,000 percent since 2001,'' he says. He leverages his financial connections to promote Wine for Wheels. Next week, when he attends a mining conference in Toronto, he'll take wine. Not to make money, he says, but to get on the 25,000 attendees' charity lists.
The winemakers he approached for his project were quick to sign on.
Best Barrels
``Within 20 minutes of talking to Gordon, I was in,'' Erickson tells me later. ``I've traveled in South America and Asia and seen people with no legs living in boxes, trying to get around on skateboards. My wife and I were looking for some way to give something back.'' One of the five winemakers whose wines will be released next fall, he tapped his best barrels of cabernet and cabernet franc.
The day is chilly and Holmes and I sit at a table in front of the fireplace to warm up, share sandwiches and taste. A blue- and-red wheelchair sits in a corner. The wines have just been bottled. Erickson's isn't ready to be tasted yet, but Holmes has rounded up three others. Each costs $100 a bottle and is sold in assorted packages of 3, 4, 6 or 12. For the price, you expect something pretty good, and the quality shines through.
Silky Pinot
The 2006 Greg La Follette Pinot Noir has smoky dark cherry and plum fruit flavors and the silky texture that pinot master La Follette, who makes wine under his own Tandem label, is known for.
The 2005 Marco DiGiulio Cabernet from Lookout Ridge's own grapes is rich and fruity, with exceptional balance, while the 2005 Gerhard Reisacher Cabernet is deep and luscious, with a savory taste of earth and dark mountain fruit.
``Every day the number of people who need a wheelchair and can't afford it goes up,'' Holmes says. ``Giving dignity and independence back to them is a powerful gift. Some of the Wall Street people I work with are supportive, but others say, `Hey, Gordon, you're supposed to be making money.' But I see things differently.''
Holmes has made that an easy-to-swallow philosophy.
(Elin McCoy writes on wine and spirits for Bloomberg News. The opinions expressed are her own.)
To contact the writer of this story: Elin McCoy at
emcwine@aol.com
.
«
Back