Wines and Vines, January 2008
When Charity is the Message

by Lance Cutler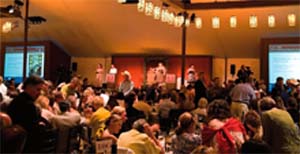 Superstars and the super-rich mingle with the locals at Napa Valley Vintners' legendary charity auction and related events.
A winery's charitable donations can be as personal as the reasons its owners got into the business.
Many winery owners choose their "cause" because of experiences that have touched their lives.
Consumers will associate your winery with your cause.
People get into the wine business for very personal reasons. Maybe they seek a more rural life for their family. Perhaps they are intent on building a family legacy. Whatever the reason, most will have to face many of the same decisions. Where should they plant their grapes and to which varieties? Which barrels should they use and what yeast? How long should they age the wine and at what price should it be sold? Oh yeah, and of the myriad of charity organizations that ask, to which should they donate?
Wineries are extremely generous in donating to charities. U.S. wineries annually contribute $127 million to charitable organizations, according to an economic impact report released by MKF Research, LLC, in early 2007. Whether it's a raffle for the kids' school, a dinner for a town fundraiser or an auction for the local hospital, wineries have always stepped up to the plate with their wine, their facilities and their personnel. More recently, wineries are discovering that their charitable works help define who they are in the public's mind, while separating them from the immense crowd of other wineries.
Of course, in the wine business, it's the prestigious winery association auctions that attract the most publicity. Bidders at the 2007 Napa Valley Vintners wine auction coughed up a whopping $9.8 million for lots featuring wine, trips and intimate dinners with winery owners. The four-day event featured glitz and glamour galore, and had celebrities rubbing elbows with famous winemakers and dining on sumptuous food created by star chefs.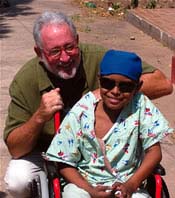 Gordon Holmes, proprietor of Lookout Ridge Winery, shares a joyful moment with a Bolivian beneficiary of his "Wine for Wheels" program.
As established as the giant auctions have become, there is a definite trend for wineries to make high profile, individual charitable donations, often based on personal experience or beliefs. Gordon Holmes was the renowned Wall Street publisher of Research and Buyside magazines. He sold those magazines to purchase a plot of land high on a mountainside on the divide between Napa and Sonoma. He planted a vineyard and started Lookout Ridge Winery.
At about that time, his wife Kari was stricken with multiple sclerosis. Eventually, she needed a wheelchair to get around. At a gala wine event Holmes met Ken Behring, a Northern California philanthropist who gives free wheelchairs to impoverished people in poor countries around the world. Seeing how the wheelchair impacted his wife's life, Holmes decided that as long as he owned Lookout Ridge Winery, he would donate a wheelchair in the name of each person who purchased a case of his wine.
Holmes went to Mexico with Behring. A Mexican father brought his son to the plaza in a wheelbarrow, because the boy had lost his legs. The boy was morose and sullen. When Holmes presented the boy with a wheelchair there was a remarkable change. The boy became animated, excitedly wheeling himself about in the chair.
"I've donated to lots of causes like Hurricane Katrina Relief and the Tsunami Relief Fund, but there was no personal connection," Holmes explains. "When I give a wheelchair to someone who can barely afford breakfast, I've changed their life and their family's lives forever." Holmes calls his program "Wine for Wheels."
Lookout Ridge produces Chardonnay, Pinot Noir, Syrah, a Tuscan blend and Cabernet Sauvignon. The wines sell in the $450-650 per case range. Each time a customer purchases a case of Lookout Ridge wine, Holmes buys another wheelchair. Behring arranges the delivery and a photo is taken of the recipient in the new chair. That photo and a letter are sent to the customer, thanking him on behalf of the recipient, Ken Behring and Lookout Ridge. Less than a year into the program, Holmes had already donated 200 wheelchairs.
State of Grace
There's obviously some publicity value here, but Holmes insists that the only reason for publicity is to get more people involved in getting wheelchairs to those who need them. "Sometimes it gets you down," he says. "There are millions of people who can't afford a wheelchair, but they need one because they don't have legs. Dick Grace told me once, 'It's enough to change the world one child at a time.' That's what I've decided to do."
Dick Grace, under the aegis of the Grace Family Foundation funded by his Grace Family Vineyards, is a legend in wine philanthropy. Grace is the alcoholic, ex-Marine, successful investment banker who gave up drinking, became a Buddhist and established a famous cult winery, primarily to raise money for charity. Grace estimates that his wines have raised more than $15 million at charity events over the past 13 years, but he insists that it's not the amount of money; it's the amount of personal involvement that counts.
Grace has come to believe that the greatest problem in the world is the gap between the rich and the poor. His religion advises that we show compassion for and kindness to all sentient beings, especially those who are suffering. To that end, Grace has dedicated himself to raising money to help the poor, primarily in Nepal, Tibet, India and China, but in the United States as well.
"When you involve yourself, these people become our greatest teachers. If you want to learn about courage, involve yourself with a cancer kid and his family. If you want to see real re soluteness, get to know a poor Tibetan trying to eke out a living day after day for his family. If you want to see real happiness, give a simple gift like a hoop or crayons to a child of the Third World. Do this, and the joy you receive is unimaginable," he says.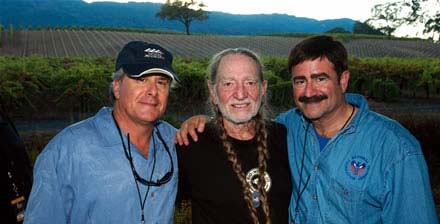 Bruce Cohn (left), longtime manager of the Doobie Brothers, uses his clout to bring-in headliners to his annual charity concerts at B.R. Cohn winery. In 2006, Willie Nelson and others performed a benefit for the National Veterans Foundation. Its president Shad Meshad, is on the right.
Some wineries create events to raise money for their charitable endeavors. Each year, for the past 20 years, Bruce Cohn has hosted a charity weekend. The weekend features a celebrity golf tournament and auction, but the high point is the concert featuring performers like the Doobie Brothers (Cohn is the band's longtime manager), Little Feat and Dave Mason. The bulk of the money goes to local Sonoma charities like the Sonoma Education Fund, the Sonoma Mentoring Alliance and the high school swim team. Cohn says, "I give locally, because it's where I live and I want to affect my neighborhood. Giving locally generates goodwill from the community, and people support businesses that support the community."
In 2006, Cohn added a second concert which raised $150,000 for Hurricane Katrina Relief. Last year, the second concert, which featured Willie Nelson, brought in $200,000 for the National Veterans Foundation. "The concerts are a way for us to have fun while raising money for charity. I've been fortunate, and it's time for me to give back. Hopefully, my kids will continue the charity events. Hopefully, they'll keep the winery going, too."
Taking charity to heart
One of the most recent wineries to catch the charitable bug is O'Brien Cellars in Napa Valley. Bart O'Brien is a romantic. The software designer discovered wine country 20 years ago on a romantic weekend with his wife. They dreamed of getting into the wine business. In 2000, that dream became a reality when they purchased a 33-acre vineyard and winery facility.
Bart O'Brien and his wife adopted a cause when many gay couples found a welcoming environment while enjoying Romance Tours at the Napa Valley winery. O'Brien's online Equality Wine Store donates 20% of its sales to a group supporting same-sex marriage.
They had no tasting room, but they came up with the idea of "Romance Tours" where couples could come up to the winery, visit with them and sample some wine and cheese. Often, couples coming for the Romance Tours were gay. As O'Brien got to know them, he was amazed to hear that many gay couples loved the Romance Tour because they felt safe and able to be themselves.
"Everyone deserves to seek their own freedom," O'Brien says. "While there are lots of causes, this was one that affected our neighbors and friends." He set up his online Equality Wine Store, which gives 20% of all sales to Equality California (EQCA) the largest gay, lesbian, bisexual and transgender organization in the state fighting to end the ban on same-sex marriage.
O'Brien speaks of the benefits of exposing his personal beliefs so like-minded people can purchase his wines. He knows his stance makes his wines more attractive to the gay community, a powerful, influential target group of customers. "The best thing about this program," he says, "is the heartwarming letters we receive from gay couples calling us their allies. It spreads goodwill, and I'm proud to be involved."
People get into the wine business for very personal reasons. They donate to various charities based on personal experience or beliefs. Now, wineries are coming to realize that they can personalize their charitable and community contributions to reflect their concerns and to attract specific groups of consumers. This is good for our communities. It helps the needy and it nourishes the soul.
Lance Cutler

was winemaker/general manager for Gundlach Bundschu Winery in Sonoma for 15 years, and also produced wines under his own label, The Cutler Cellar. He has retired from commercial winemaking to focus on a career as a writer. Contact him at edit@winesandvines.com.
«
Back